Written by AJ Veach
A little creativity can go a long way in the backcountry. Gather together a group of cancer survivors, and you are bound to learn a few new pro tips. The same resourcefulness helping people live their best lives through illness carries over into backpacking.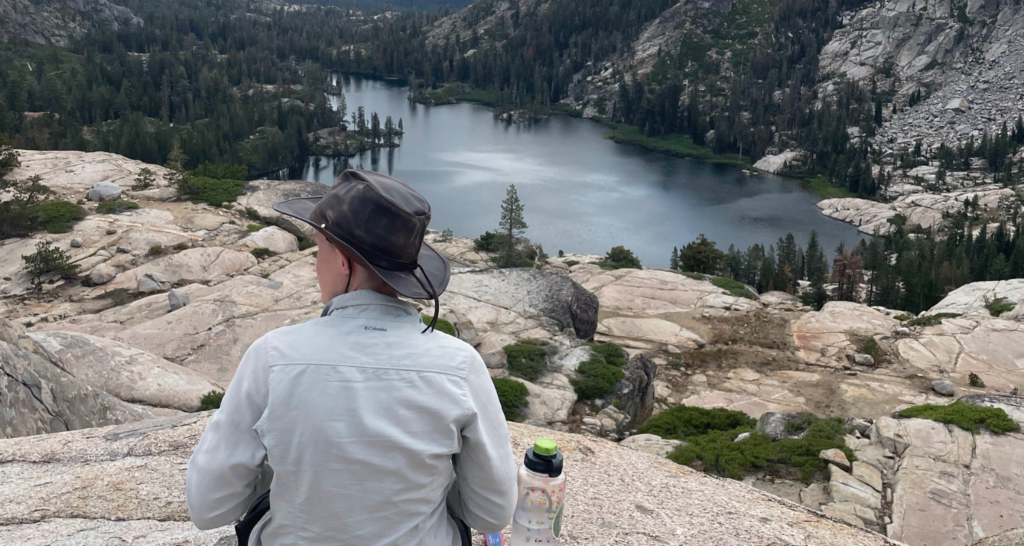 Along the trail there are bound to be rocks in your shoes, body aches from carrying a heavy pack, and other discomforts that distract you from enjoying your time in nature. I've gathered a collection of adaptive tips to help make your Send It experience a joyful one.
Every year, Send It Foundation provides outdoor adventures for young adults, such as a multi-day backpacking trip in the Sierra Mountains. It takes courage to sign up for an activity you might have limited experience with, in a place you might not have visited, with people you've never met. But epic rewards await those who choose to put themselves out there.
In August 2022, I traveled to Truckee to start my adventure. Just as others have said on this blog, the family aspect of Send It embraces you right away. I had some overnight and long-distance hiking experience, but not to the scale of this trip. I knew there would be surprises and challenges, but I felt confident with my preparations and the communication from the Send It team.
Reality set in roughly 10 steps up the trail. Turns out, my jitters about the first day of hiking were well-founded. Heavy pack, rocky terrain, and miles to go before the lake … that little voice in my head was trying hard to overwhelm me and trigger an about-face. I'm so thankful for our alumni guides, medical volunteer, and fellow participants for sharing their encouragement, wisdom, and a tiny roll of Leukotape (see below).
By maintaining as best I could a mindset openness, curiosity, and determination, I was able to keep putting one foot in front of the other. Then, a little over halfway, I realized a sharp change in my perspective. I felt elated because I knew – absolutely and without a doubt – I could do this. I was going to make it.
That sense of strength and empowerment gave me just what I needed to overcome the physical and mental challenges.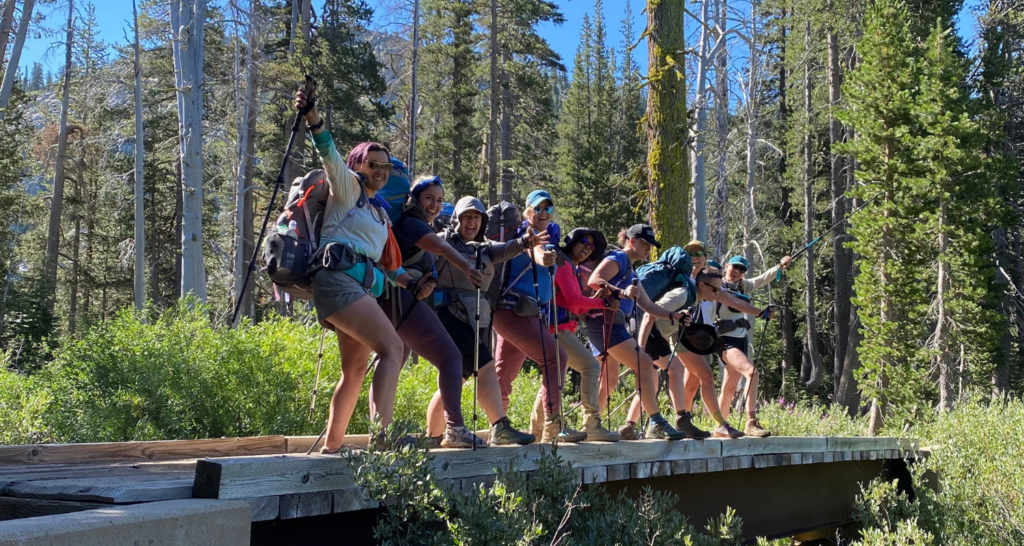 Through cancer treatment, I've had surgeries on my chest and spine, and I take medications that cause changes to my body such as sensitive skin and thin nails. Here are a few things that helped keep me more comfortable out there. I hope they can help you too!
Liquid bandage – Rock scrambling did a number on my fingertips the first day. So, I painted my fingertips with liquid bandage (brands include LiquidSkin and New-Skin) to protect them from further damage. It stings when it gets into a cut but will dry quickly, and you can reapply as needed. The following day of exploring on the rocks around Paradise Lake was much more comfortable!
Nail protection – My nails tear easily at home, so I knew they would need some reinforcement while camping. I brought gloves and applied a nail strengthening polish as well as a protective polish.
Leukotape – This super-sticky multi-tasker will help keep your feet happy and even serves as a gear patch in a pinch. If you start to feel "hot spots" on your feet, be proactive! A tiny red spot can turn into a blister really quickly. Find a place to sit down and take off your shoes and socks. Clean sand or other debris from your feet, and shake any rocks out of your shoes. Cover the hot spot with a piece of the cloth-like tape just bigger than the red area, and be on your way. Wait too long after you start to feel something, and a blister will form. The heat of a "hot spot" comes from friction where your feet, socks, and shoes rub together. Leave the tape on until it falls off on its own, which could be days later. If you did develop a blister, add some cushion between the tape and your damaged skin.
Pack only portions — Instead of carrying a full roll of tape, save some bulk and weight! Tear off a shorter strip and roll it up on itself. Or you can cut several different lengths and keep it on transfer paper (that waxy sticker backing). They will tuck quite nicely into that itty bitty space left in your bear bin. (Video: https://youtu.be/u7g_uH5QOu4)
This same portion practice is ideal for your personal care items, such as wipes, lotions, toothpaste, etc. Chat with your tent mate about sharing necessities like sunscreen. Trust me, you'll feel the extra ounces, or lack thereof.
Seat cushion – Bring a section of foam padding to cushion your bum while you and your new pals perch on boulders. Or get creative and make a cushion out of some other gear.

Multitaskers – Carrying less really is more fun. I tucked my second pair of socks between my chest port and shoulder strap to prevent chafing. And my inflatable sleeping pad doubled as a seat cushion. Carabiners and other clips can be used to hang things at your campsite – clothing, lamps, etc. – then revert to securing your water bottle when you hit the trail again. Buffs can keep the dust out of your face on the trail, wrap around some clothes to make a pillowcase, or shield your eyes for a midday nap.
Good mornings – When you turn in for the night, push a few items of clothing for the morning into your sleeping bag to keep nice and toasty when you wake up.
Comfort/fun item – Find something small and lightweight. For me, it was my folding fan. I can still remember a moment, climbing across huge boulders to reach a view overlooking an expansive valley. It's hot, and we stop to hydrate and have a snack. One of the volunteers remarked that she was really feeling the heat. I whipped out my fan, sent some refreshing air her way, and we all broke down into childlike laughter.
It's all of these moments, from the silly to the spiritual, that create life-changing memories. As I continue treatment, these memories remind me of my strength and of the shared healing I experienced with this amazing community.